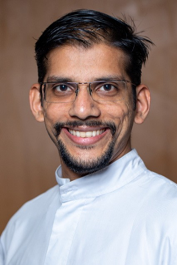 Another academic year has passed and we are grateful that our experiences that came our way. Our experiences have made us more courageous, confident, strong and wise. Yet the question we need to ask ourselves is whether we have become more human. The movie, 'Hot Lead and Cold Feet' so rightly puts it through one of the protagonist, "Something good is bound to happen when love is in your heart. For love and kindness is where good things always start. There's goodness in your neighbour, there's goodness close at hand. So spread love and kindness all over the land.
Our parents and teachers have taught us altruistic values since our childhood; to love, care and respect people around us.Charlie Chaplin spent many months drafting and re-writing the speech for the end of the movie, 'The Dictator' (interestingly alsothe first movie of Charlie Chaplin to have dialogues) which regrettably are as relevant today as they were in 1940. "In this world there is room for everyone. And the good earth is rich and can provide for everyone. The way of life can be free and beautiful, but we have lost the way. Greed has poisoned men's souls, has barricaded the world with hate, has goose-stepped usinto misery and bloodshed. We have developed speed, but we have shut ourselves in. Machinery that gives abundance has left us in want. Our knowledge has made us cynical. Our cleverness, hard and unkind. We think too much and feel too little. More than machinery we need humanity. More than cleverness we need kindness and gentleness. Without these qualities, life will be violentand all will be lost…".
Sometimes it's hard to fathom the right reasons to be kind. Being kind for its own sake, expecting neither now-or-laterrecompense nor praise. Being
kind not to build our self-esteem but simply for the greater good, not for us but for them. Kindness requires caring aboutsomeone, something or anything beyond ourselves. Such generosity of spirit does not spring fully formed into every humanheart. Given our inborn instincts, our lives can be a selfishness superhighway. But where do we start?
The movie 'Pay it Forward', depicts a small idea that went on to change the world and it started off with a young boy named Trevor McKinney who challenged by his school teacher came up with the idea to help three people without expectinganything in return, Trevor formulated the concept of 'Pay It Forward'. The only requirement was for the people who were helped to help another three people. With this exponential method of helping people, kindness was not only a thought, but putinto deliberate action. Eventually, the little idea sparked a huge following and kindness was shown to many. How many of us can stand up to this challenge? We can definitely make a difference by acts of random kindness. Wishing all a happy summer.
May God bless us all. Signing off,