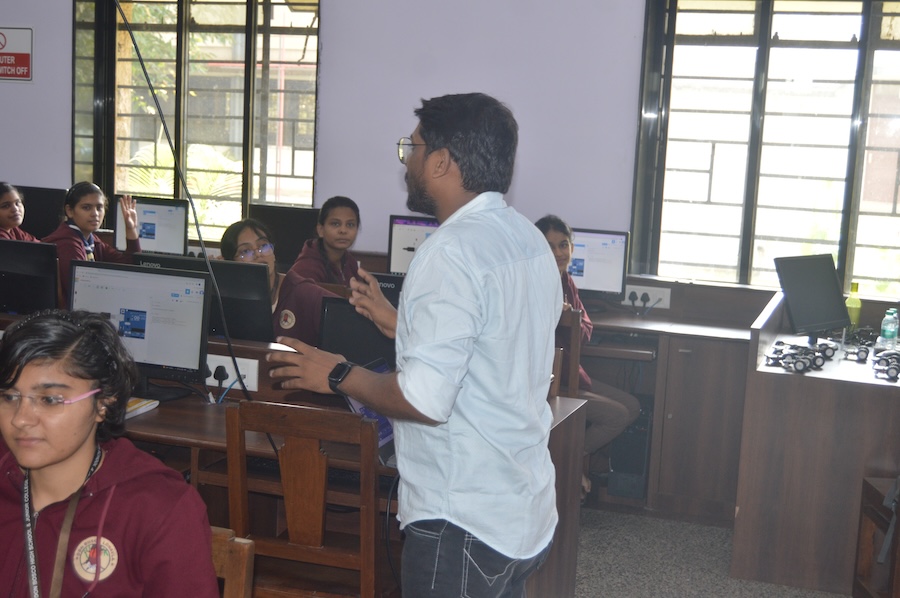 AI Awareness Program at Don Bosco Lonavla
Ritu Advani and Don Bosco Lonavala collaborated to host an AI Awareness Program for students in grades IX to XII on 25 and 26 October 2023. The program aimed to introduce students to practical AI applications through hands-on experiences in the school's IT lab, equipped with cutting-edge technology. The curriculum covered diverse AI topics, enhancing students' understanding of AI and its components.
Arduino:
   – Introduction to Arduino and its applications in the field of AI.
   – Hands-on exercises to program and control Arduino boards.
Block-Based Coding:
   – Utilizing visual programming languages to create algorithms and solve problems.
   – Encouraging creative and logical thinking through block-based coding exercises.
Quarky Board:
   – An overview of Quarky boards and their relevance in AI projects.
   – Practical demonstrations of Quarky board functionalities.
Machine Learning:
   – Introduction to machine learning and its role in AI.
   – Basic concepts of supervised and unsupervised learning.
   – Practical exercises on creating simple machine learning models.
Object Detection:
   – Understanding the importance of object detection in AI applications.
   – Practical demonstrations of object detection algorithms.
Python:
   – Introduction to the Python programming language, widely used in AI development.
   – Basic Python programming exercises to build a foundation.
The AI Awareness Program was conducted through a combination of lectures, practical demonstrations, and hands-on activities. Experienced instructors and AI experts guided the students through each topic, ensuring a deep and practical understanding. The program emphasized active participation, and students were encouraged to collaborate and apply their knowledge to real-world scenarios.
Throughout the program, the students displayed a high level of enthusiasm and engagement. The hands-on nature of the sessions allowed them to apply what they learned, fostering a sense of curiosity and experimentation. This interactive learning approach was crucial in ensuring that students absorbed AI concepts effectively.
The AI Awareness Program at Don Bosco Lonavala was a resounding success in providing students with valuable insights into the world of artificial intelligence. The topics covered, coupled with the practical sessions, equipped students with a foundational understanding of AI concepts and their applications. This program was a significant step in preparing students for the future, as AI continues to play an increasingly prominent role in various fields.
The school, Don Bosco Lonavla, looks forward to further initiatives and opportunities to nurture students' interests in emerging technologies and promote innovation. The AI Awareness Program organized by Ritu Advani was a significant step in empowering students with AI knowledge, and it serves as a testament to the importance of introducing students to emerging technologies in a practical and engaging manner.