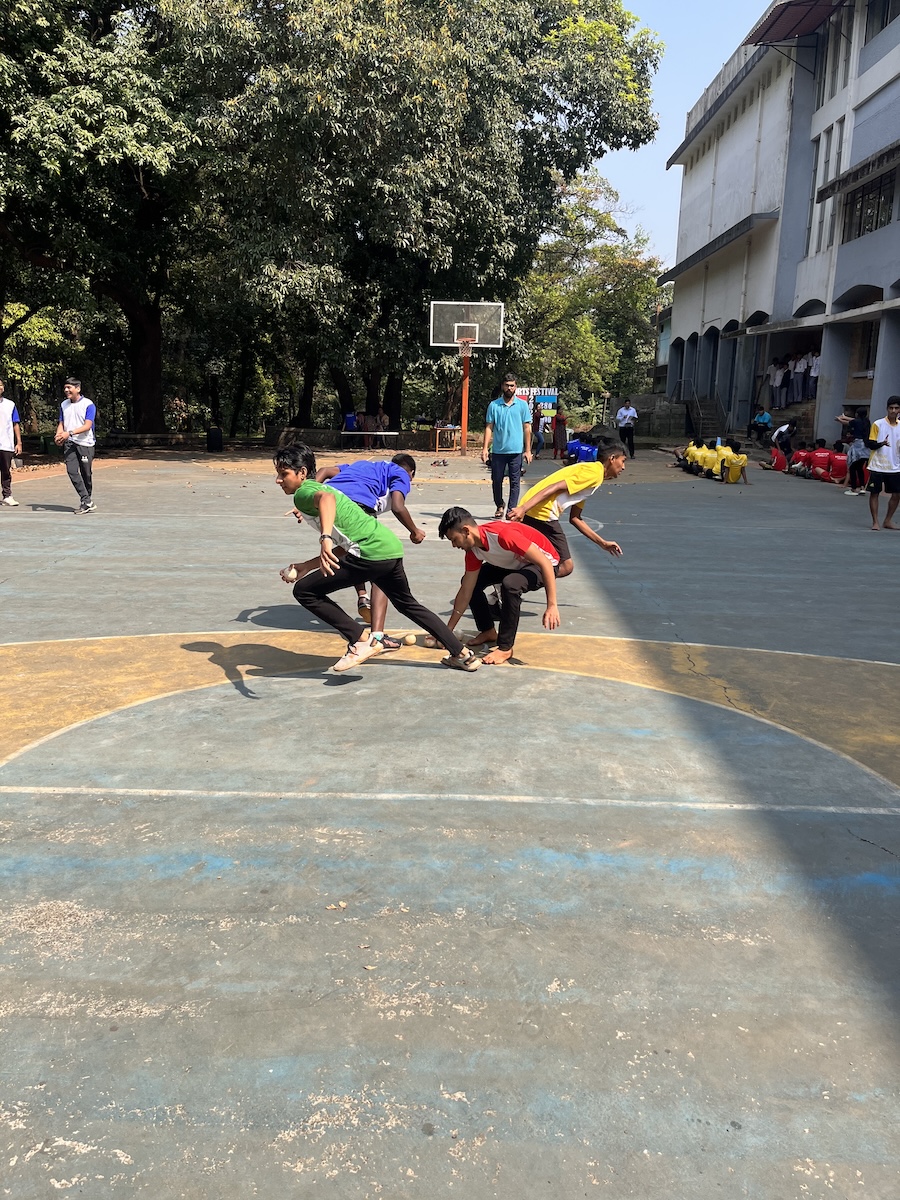 Sports Festival at Don Bosco Lonavla
Sports Festival at Don Bosco Lonavla

by Alfiya Inamdar
The sports festival at Don Bosco Lonavla from 11 – 14 October 2023, wrapped up the first term with a bang. The event was a melting pot of activities, from the classic number relay and passing the message to nail-biting basketball shots on the court. Meanwhile, the football field buzzed with energy as students engaged in spirited games like football, French Cricket, and Box cricket, showcasing their skills and teamwork across all four days. Each day, students gathered in their designated houses – yellow, green, red, and blue – to recite the opening prayer.
On the inaugural day, students from grades 5 to 8 engaged passionately in their respective houses. The atmosphere buzzed with excitement and intense competition as they participated in various sports activities throughout the morning. The day reached its peak with the announcement of winners, highlighting not only their physical abilities but also emphasizing the values of teamwork, dedication, and sportsmanship. The Green house proudly earned the title of overall champions.
The next day, junior college girls showcased their sportsmanship in intense matches between the four houses. In addition to the box cricket and French cricket, games like Kho Kho and Dodge Ball were conducted that highlighted their exceptional teamwork and determination. In the afternoon, games like "Dog and the Bone" and "Robbing the Eggs," were organized that added excitement. The Blue house claimed the title of overall champions.
On 13 October 2023, the Sports Festival was filled with intense competitions and the spirit of sportsmanship was palpable throughout the event as the boys from the junior college participated in the festival. The energy and enthusiasm of both the participants and the audience were off the charts, making the event a memorable experience for everyone involved. When it came to determining the champions, the Red House emerged victorious, securing the first place.
The sports festival came to a thrilling conclusion on day 4, with students from the grade 9 and 10 actively participating in games. The day was a culmination of fun, excitement, and fierce competition. The students engaged in games igniting an atmosphere of friendly rivalry and enthusiasm. Upon calculating the scores, the Blue House claimed victory, securing the top position.
The careful planning by the coordinating team of teachers – Dinesh D'souza, Alfred Menzes, Alfiya Inamdar, Pooja Rawat, Afrin Khan and Pradeep Mishra,  ensured the seamless execution of every event. Credit is due to the dedicated teachers who not only supervised the event but also refereed the matches. Their active involvement and support contributed significantly to the success of the Sports Festival. It's worth noting that some past pupils also lent a helping hand by refereeing the matches, demonstrating the strong bonds and lasting connections within the Don Bosco community.
To mark the end of this memorable sports festival, the school captain delivered a closing speech, expressing heartfelt gratitude to everyone involved. This four-day extravaganza of sports was undoubtedly a resounding success, thanks to the collective efforts of students, teachers, and past pupils.