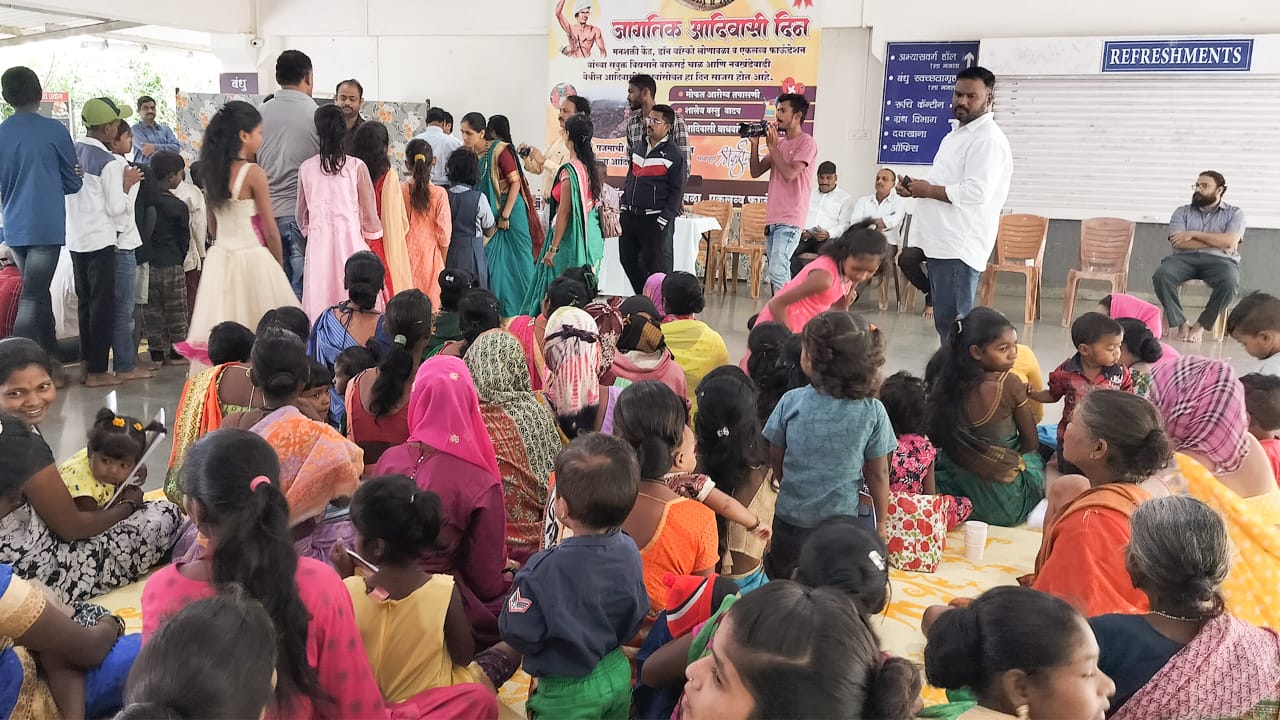 DB Lonavla Participates in Adivasi Day Celebrations
By Fr Blany Pinto
On 9 August 2023, a collaborative effort between the Eklavya Foundation, Manshakti Kendra, and Don Bosco, Lonavla, led to the organisation of a medical camp dedicated to serving the Adivasi community on the occasion of Adivasi Day. The programme began at 10 a.m. and extended until 3 in the afternoon at Manshakti Kendra, Lonavla.
Approximately 180 tribals from the neighbouring villages of Navkhandevadi and Vaksai actively participated in the programme. The programme commenced with the lighting of a lamp, followed by the reverential placement of the garland upon the image of Hutatma Nagya, a revered Adivasi revolutionary figure. A collective homage was then paid to the departed Adivasis who tragically lost their lives in a recent landslide in Irshalwadi village in Khalapur, near Lonavla, just a few weeks prior. Numerous Adivasi families experienced not only the heartbreaking loss of their loved ones but also the devastation of their homes and all their possessions.  
In a show of solidarity, Br Royston Colaco and Fr Velasli Bandya, accompanied by the social outreach team from Don Bosco, Lonavla, including Mrs Sonali Shelke and Mr Ravi Shelke, graced the occasion with their presence. Likewise, the event was graced by the attendance of Dr Suhas Gosavi and Mr Namdev Phapale from the Manshakti Kendra. Mr Pravin Deshmukh, the visionary founder of Eklavya Foundation, along with his dedicated team, also showed their commitment to the cause by being present. 
The central objective of hosting the event on Adivasi Day was to gather the Adivasis from the different villages. It was also to disseminate vital information regarding the array of government initiatives tailored to uplift the Adivasi populace. Moreover, a concerted effort was made to instill an enthusiasm for education among the Adivasi families, urging them to enrol their children in schools to facilitate their academic journey. 
The event not only facilitated the gathering and dissemination of information but also included a medical camp. A dedicated medical team comprising of Dr Gosavi and Dr Santosh Nikharaje, assisted by two nurses, conducted health check-ups, accompanied by ophthalmologists. To address the immediate healthcare needs, medicines were distributed freely to all the families that were sponsored by Mr Rajendra Khandelwal. 
A select group of Don Bosco Lonavla students were actively involved in the medical camp. Their participation extended to the distribution of the medicines to each Adivasi family, engendering a rewarding experience for both the aspirants and the community they served. 
The International Day of the World's Indigenous Peoples is observed on 9 August each year to raise awareness and protect the rights of the world's indigenous population. This is an occasion to recognise the achievements and contributions that indigenous people make to society.