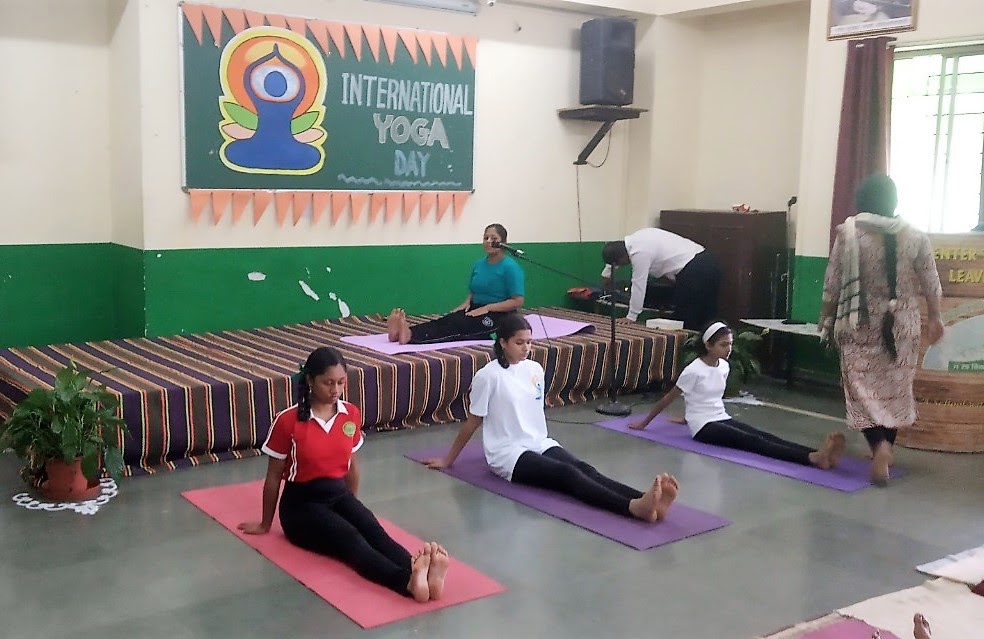 by Cl. Ethan Fortes for BISMumbai
On account of International Yoga Day, a yoga session was arranged for the students of Classes 5 to 8 at Don Bosco High School and Junior College Lonavla. The session was held in the presence of the guest instructors Mr Shivam Gautam and Mr Aditya Supekar.
Mr Gautam and Mr Supekar are members of Sukshma Yoga Foundation. Sukshma Yoga Foundation is a small initiative in Lonavla started by a few yoga enthusiasts who aim to create a self-healing environment using the means of traditional Yoga. The event was divided into two sessions, in which the guest instructors gently guided the children into a few basic asanas. Under the supervision of and assistance of the respective class teachers, the children successfully attempted the exercises. In his concluding remarks, Mr Gautam spoke of the importance of yoga in one's daily life. He said that yoga is not merely a set of exercises to keep the body fit but rather it is a lifestyle to help calm and rejuvenate oneself.
A similar programme was arranged by Kaivalyadham Yoga Institute and Research Centre for the students of Classes 9 and 10 from all schools of Lonavla, wherein the students of Class 9 of Don Bosco High School participated in it.
Many of the participants were quite pleased with the way the instructors guided them into doing the various asanas. Some of them even vowed to take up doing yoga daily in order to improve their overall well-being.